Genuine Webasto Air Top 2000 STC Air heater kit. With an output range of 3070 BTU to 7000 BTU ( 1 kilowatt - 2 kilowatt ) the AT2000STC air heater can provide heat for up to 22 hours on 1 gallon of fuel. The Webasto Air top 2000 series air heaters are used extensively in commercial trucking and medium duty applications and are certified idle reduction devices. Investing in a Webasto gasoline heater will save fuel, save maintenance, save money and save pollution.
We take the factory packaged kit and add a specific assortment of Genuine Webasto accessories to give you a 1 click purchase option for a deluxe heater installation. Our kit is tailored to delivering reliable, quiet operation that is expected of the Van Life and Overland communities. 
 Basic Specifications:
North America Kit
Authorized North American Distributor in USA
Full Webasto backed Warranty support for all product purchased from us
Heater type: Heated Air for Cabin, Bunk, Sleeper or Cargo
Operating Voltage: 12 vdc
Fuel Type: Gasoline
Heat output range: 3070 btu - 7000 btu (1 kW - 2 kW)
Heat output control: Rheostat knob
Ducting Connections: 60mm
Fitment: Vehicle Specific to Ram Promaster and Sprinter
Special Attribute: Programmable Digital Controls are available as an option with the 5013874A Smartemp 3.0BT + 5013929B Adapter Harness, purchased separately.
See our video here https://youtu.be/ovbxDbbcxlY 

See Ryan's DIY installation of the basic version of this kit here https://youtu.be/sKnDGHi4uOQ
Webasto Factory Packaged Kit includes:
Air Top 2000 Gasoline Heater Unit
Rheostat Controller
Fuel pump, fuel tank standpipe, 6 meters fuel line
Base mounting plate and seal
Heater Wire Harness
Fuel Pump Wire Harness
1 M Flexible Stainless Steel Exhaust Tubing
.5 M Combustion Air Tubing
Operation/Installation Manual
We add our custom Noise Suppression kit of all Genuine Webasto parts:
22mm Exhaust muffler
Stainless Steel Muffler clamps
1 Meter Stainless Steel exhaust tube extension
Stainless Steel Mounting clips
Straight mounting hangers
Angled mounting hangers
Air intake silencer
1 Meter air intake tubing
Silencer mounting clamp
Tubing mounting clamp
We add our Custom 10-7-0010 Promaster - Sprinter fuel tank tap kit
Push lock fuel tank fitting for Promaster and Sprinter that simply clicks onto the unused factory auxiliary port
Adapter elbow to connect the barbed end of the push lock to the standard size Webasto fuel line supplied in the heater kit
Clamps to secure both ends of the elbow with spares
Does not fit 2021 & up gasoline Sprinter. Fuel tank must be drilled for standpipe.
**This kit is designed to
 be installed by anyone with intermediate mechanical knowledge and access to basic tools. Some vehicles have access to the tank ports through a removable floor panel and some vehicles require lowering the fuel tank to access the ports.**
Easy to install and works great
Everything I needed was in the kit. I was able to install it in a day. Works great now and it's very nice to have heat in my van.
Including a few self tapping metal screws for the undercarriage stuff would have been useful but I managed to get around it with my metal drill bit.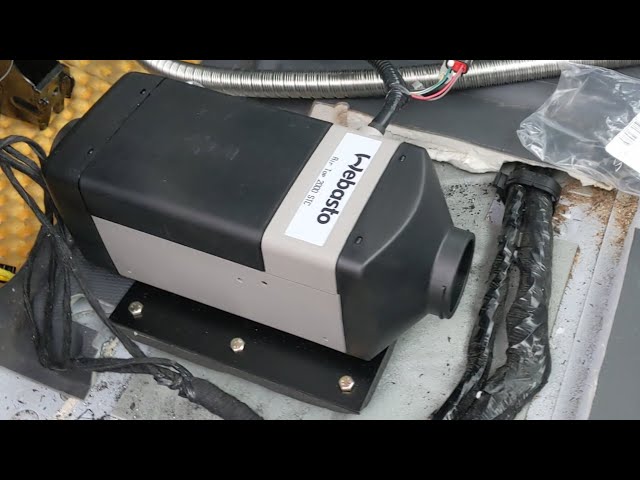 Webasto 2kW Gasoline Air Heater Kit for Ram Promaster 90-3-0004
Installation was straightforward (thanks to YouTuber Matt & Katie). My installation tweaked to fit my needs. The package from VMACS.NET I purchased came with everything you will need for a proper install. The only additional item I purchased separately was another Webasto Fuel Line Molded Rubber Elbow 90 Degree to ensure proper level to avoid air pockets.
Does fuel tank tap kit included fit 2020 Sprinter 2500 (VS30) Gas engine Vans?.
You have specified fuel tank tap kit "Does not fit 2021 & up gasoline Sprinter. Fuel tank must be drilled for standpipe".
Does this mean fuel tank tap kit fits 2020 Sprinter Gas engine models without drilling and clicks onto the unused factory auxiliary port?
To the best of our knowledge, this kit will work on the fuel tank aux port on all gasoline Sprinters up to 2020MY. Beginning 2021MY the aux port has been removed and an aux pickup tube has been added near the side of the fuel tank which requires a different set of adapters or drilling the tank to use the universal standpipe which is included in our heater kits.
Great heater so far! Install was straight forward!
Heater seems to really be working well so far on my 19 Ram Promaster 1500 van build. The fuel tank adapter clips right on and can hardly hear the fuel pump from inside. Had it on a couple times testing it for at least an hr at around 900ft elevation. Make sure you do your research and know how to install it forward and backwards. It Loves to run hot and They recommend keeping it on high for the last 20-30 min it's Turned on to burn off the extra carbon buildup. I was able to mount this on the floor behind my driver seat underneath my kitchen cabinet drawers. Where it can be Tucked away and won't cause issues. I have this hooked up to my Jackery explorer 1000 and it seems to use approx 5% of battery per hr with lights and fridge running as well. Very efficient and sips fuel too! Overall it's a easy to use heater that seems to just work when used properly. Trying it on a trip to the mountains this weekend. If you dont hear from me then you know it's working right. Lol
Product title
Vendor
$19.99 | $24.99
Product title
Vendor
$19.99 | $24.99
Product title
Vendor
$19.99 | $24.99
Product title
Vendor
$19.99 | $24.99