Van Life Webasto 2kW Gasoline Air Heater Kit for Ram Promaster 90-3-0004
$1,561.00
SKU: 90-3-0004 VMACSINC
Easy to install and works great
Everything I needed was in the kit. I was able to install it in a day. Works great now and it's very nice to have heat in my van.
Including a few self tapping metal screws for the undercarriage stuff would have been useful but I managed to get around it with my metal drill bit.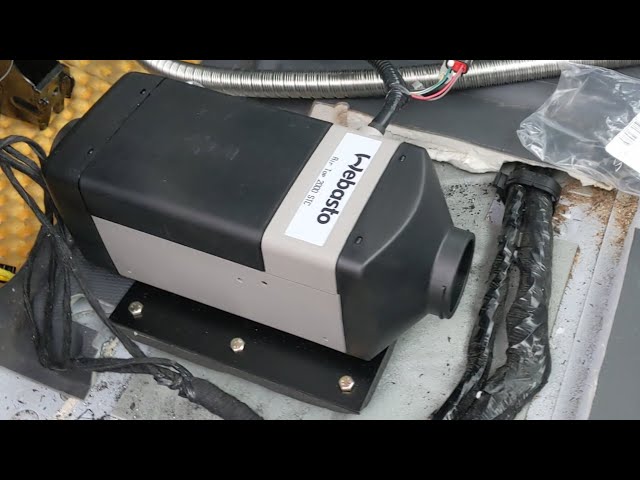 Webasto 2kW Gasoline Air Heater Kit for Ram Promaster 90-3-0004
Installation was straightforward (thanks to YouTuber Matt & Katie). My installation tweaked to fit my needs. The package from VMACS.NET I purchased came with everything you will need for a proper install. The only additional item I purchased separately was another Webasto Fuel Line Molded Rubber Elbow 90 Degree to ensure proper level to avoid air pockets.
Does fuel tank tap kit included fit 2020 Sprinter 2500 (VS30) Gas engine Vans?.
You have specified fuel tank tap kit "Does not fit 2021 & up gasoline Sprinter. Fuel tank must be drilled for standpipe".
Does this mean fuel tank tap kit fits 2020 Sprinter Gas engine models without drilling and clicks onto the unused factory auxiliary port?
To the best of our knowledge, this kit will work on the fuel tank aux port on all gasoline Sprinters up to 2020MY. Beginning 2021MY the aux port has been removed and an aux pickup tube has been added near the side of the fuel tank which requires a different set of adapters or drilling the tank to use the universal standpipe which is included in our heater kits.
Great heater so far! Install was straight forward!
Heater seems to really be working well so far on my 19 Ram Promaster 1500 van build. The fuel tank adapter clips right on and can hardly hear the fuel pump from inside. Had it on a couple times testing it for at least an hr at around 900ft elevation. Make sure you do your research and know how to install it forward and backwards. It Loves to run hot and They recommend keeping it on high for the last 20-30 min it's Turned on to burn off the extra carbon buildup. I was able to mount this on the floor behind my driver seat underneath my kitchen cabinet drawers. Where it can be Tucked away and won't cause issues. I have this hooked up to my Jackery explorer 1000 and it seems to use approx 5% of battery per hr with lights and fridge running as well. Very efficient and sips fuel too! Overall it's a easy to use heater that seems to just work when used properly. Trying it on a trip to the mountains this weekend. If you dont hear from me then you know it's working right. Lol
Awesome
Promaster kit had everything I needed, it made installation very straight forward. Called a couple of times to verify a few things, Scott was very helpful. Scott's videos are very helpful explaining the differences with the kits and the extra parts you end up with.