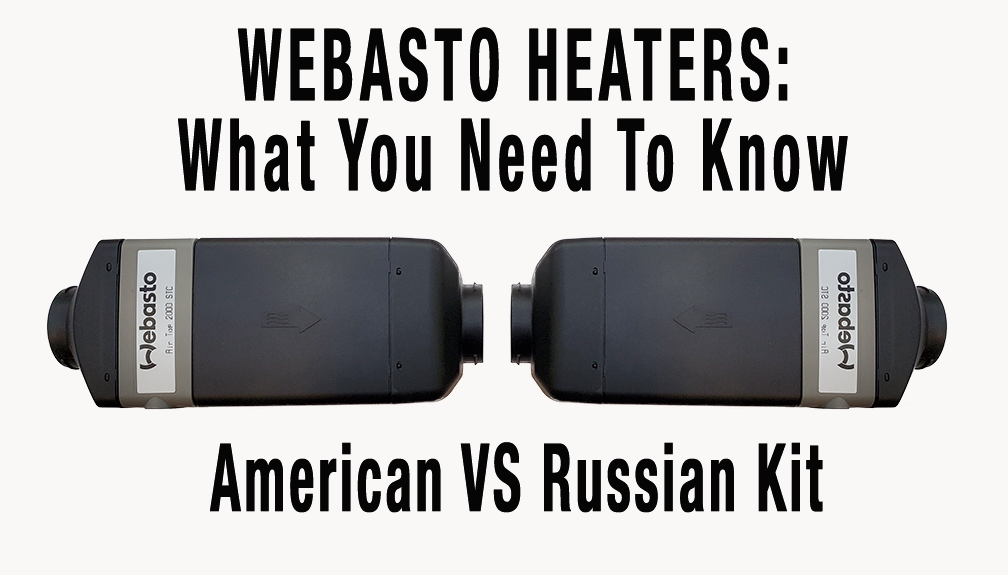 Webasto North America vs Webasto Russia
We take calls every day from people looking for answers to all sorts of questions about Webasto heaters.
A significant amount of questions revolves around some online sellers offering these heaters for purchase at prices that are significantly lower than can be obtained from local North American Webasto Distributors. We get so many questions about this, we decided to do a video to compare the North American & Russian kits, so you can see for yourself what comes in the box.
We purchased a Russian kit from a popular online platform just like many others have done. We looked at literally dozens of ads on each of the platforms. All of the ads were advertised as a "full installation kit" or a "full set". It was clearly disclosed that the product was available from Russia. It should be noted that there are sellers of Russian kits that have imported these same kits into the U.S. in bulk and are selling from locations in Florida and the Midwest in an effort to disguise that the product is actually a Russian export. It was not disclosed in the listing that the product has a void warranty if it is exported from EAEU countries.
These exported kits are what is referred to as "Gray Market" products. Gray market products are products that are produced to meet government regulations and customer preferences in specific countries or regions. Due to regulatory requirements or standard industry practices, a product that is common, deemed safe or suitable for use in one country, may not meet similar regulatory requirements or standard industry practices in other countries or regions. This is a common issue with companies that have global operations and sell their products on multiple continents. One of the most common ways companies deal with this complex issue is to restrict the availability of support for those products that have surfaced in places they should not be.
The proliferation of these gray market heaters is not only due to direct sales through global ecommerce platforms, but also due to the explosion in the popularity of affiliate marketing with those platforms. Affiliate marketing has been around for a long time. Today's technology has simply made it much easier for the average person to participate in affiliate programs. Affiliate marketing is a method of compensating a "sales force" with commissions for sales that they are responsible for generating. Many ecommerce platforms have affiliate marketing programs that are available to just about anyone. A person simply needs to sign up for the program and the platform gives them access to tools that will generate unique product links that the affiliate will then place in some form of web content. The links are typically used in blogs or video's for topics that somehow relate to the product. When the reader or viewer clicks on the link, they are directed to a product page where they can purchase the product that the blogger is writing about. If the viewer purchases a product, it is trackable via the link and the affiliate blogger is rewarded with a small percentage payout of the sale. This makes affiliate linking a great way for people seeking to earn a remote income! It's completely legitimate, easy and convenient!
Examine your sources carefully. Content creators are not always experts with the subjects they are discussing and some of the content out there is purely "click-bait" in an effort to try and get a sale. Take advise from someone you trust and discern whether their content is based on opinions or educated facts.
Watch the Video on our Youtube Channel Here https://youtu.be/WSJJ0hfCl9I